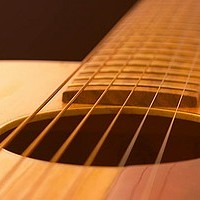 We are crazy over the beauty of the guitar. This page is dedicated to music lovers and guitar players all over the world. We will try to line up links and resources for you. Whether you are a beginner or accomplished player we will have something for you. We have a library of vhs and dvd guitar instruction videos available for rent or loan, from bluegrass to jazz.
Whats Hot
www.youtube.com is it; it the way to learn any song, and it is out-pacing all the teaching textbooks.
Beatles White Book is still the bible of authentic beatles tunes
O'Neills Irish Songs is the source for the lads loving the Guiness and Murphys suds
Hey solo guitar players---Get a good thump going with: a Porchboard bass or an Ellis stomp box. Neither is cheap (both over $200) but man, you can get people moving and add drive to your solo gigs.
Background rhythmn tracks is what everyone wants; any suggestions on format; like midi or mp3. All software has the capability but what set up works best for solo and duo players? Tell us what you use.
Check out
NPRs Mountain cafe great regional and national talents
Muriel Anderson- great guitar chops played by a total person
Joscho Stephan : Any gypsy jazz song; he is sickenly good, beyond Birelli Lagren even! Django lives!!
Beatles Mode on myspace by Victor: John Lennon incarnate! He is a local here in Florida.
Michael Chapdelaine cool arrangements- California Dreaming on utube
Still a Treasure
Michael Hedges Come Together utube
Graingers Book of Fiddle Tunes- solid entry point into Celtic music
Keep pickin, plucking and thumpin'
Info and Gear
www.acguitar.com Acoustic Guitar player magazine site
www.djangopedia.com www.gotfolk.com www.sweetwater.com www.zzsounds.com