Pembroke Falls Florida Junior Tennis Program
Teaching children lifetime values through sports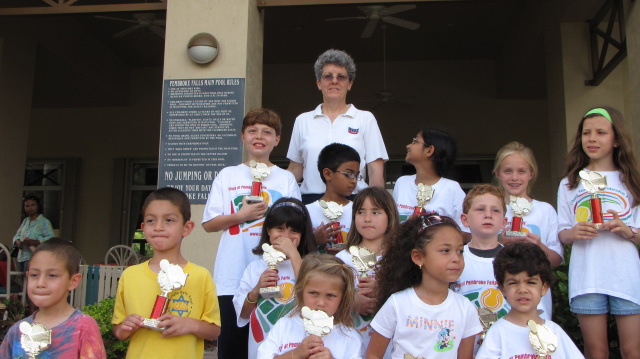 Custom Sports Services
Recreational Tennis Program
at Pembroke Falls, Florida
Graduated Youth Development Program
Leagues and Teams
Following the public school calendar, we typically run 8-week leagues for children 4 times a year.
Early Fall, Late Fall, Winter and Spring
Every season concludes with a pizza party and each child
receives a t-shirt and award. Leagues have one practice session and one match day
per week. Make-up lessons available on Saturdays.
We use the USTA-approved traing balls and modified court size.
Tennis Camps are offered during school breaks. We allow older children to be helpers
to lower levels. High School students can earn volunteer hours.
Coach Anita Mason
Level 1 Tiny Tots
Ages 31/2 to 5 Develops basic coordination & motor skills for tennis as well
as social interaction.
Level 2 Scoop It Up
Ages 6 to 8 More complex tennis skills with matches in a modified team format.
Level 3 Rallyball
Ages 9 to 12 Team practice and team competitions with more racket skills.
Level 4 Junior Development
Training for singles round-robin match play, includes all basic tennis strokes and strategy.
Level 5 Advanced Junior Development
Coach Patrick Mason USPTA Master Professional
High Performance 1
Pre-tournament play emphasizing drills, strategy and simple tactics.
High Performance 2,3,4 for Middle and High School players
Preparation for School Team play and Tournaments,
1 Fitness, Conditioning and Agility
2 Stroke Development
3 Match Play
Flexibility, speed, footwork, cross-training
Advanced Individual Coaching by appointment
Match play video analysis and match charting
Professional analysis of shot selection, winners versus errors data, percentage play, self-management of emotions while under the pressure of match play.
Tennis Conditioning Fitness Class with Coach Anita
Improve your footwork, agility, strength, power, flexibility & endurance.
Adults & teens, competitive/High School/USTA players, new & returning players - all are welcome!
Custom Sports Services -- Improving Lives Through Health and Fitness