June 24 2023 Dancing Returns to South Florida
at UU Hall in Boca Raton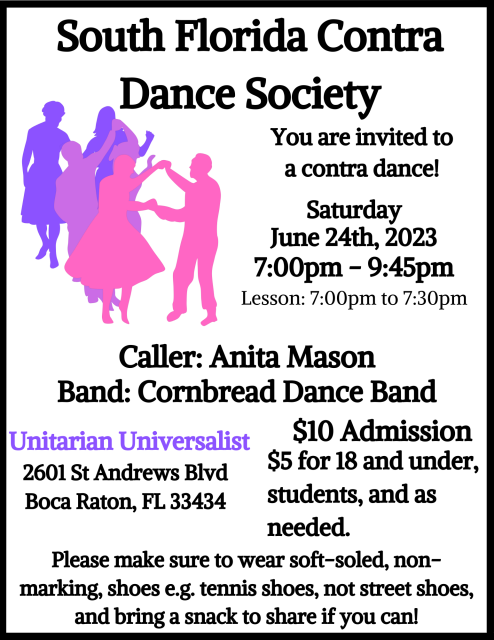 American Folk Dance . . . fun for all ages!
Anita and Patrick Mason keep the flame of American Folk dance burning in South Florida. They are a caller-band partnership running monthly dances for over a decade. Anita and Pats Cornbread Dance Band have put on contras, children's dances, Barn and farm dances, July 4th Hoedowns from Key west to Palm Beach, and wedding mixers.
Ideal for : Wedding Receptions, Festivals, Communities, Corporate & Private Events, School Programs, Private Parties and Celebrations.
Ongoing South Florida Dances/References
Boca Raton Contra Dances Arlene Fisher (SFCDS Non-Profit President) 2013 to present
The Broward Barn and Contra Dance, Davie Host Band 2012-17
The Barnacle State Park Old Time Dance Host caller and band 2016-18
Four week Learn to dance Series , Miami Beach Amphitheater 2016
2023 Miami Earth'n Us 2023 Outdoor dance series Feb-April
HOA Dances Pembroke Falls, Boca Pointe
Private and Public Performances /references available
Annual 2016-2019 Pembroke Falls HOA International Potluck Dinner & Dance
10-29-16 Royal Palm Tennis Club Delicious Deserts Dance
9-30-16 Sunrise School Dedication Parent -Child dance Cutler Bay 150 dancers
7-7,14,21,28-16 North Beach Bandshell Dance Nights Miami Irish, French, Americana nights
http://wlrn.org/post/leave-your-stillettos-home-miami-beachs-contra-dance-nights
11-23-14, 7-3-16 WLRN Public Radio Folk and Acoustic Music YouTube Michael Stock mstock@wlrn.org
7-2-15 - Norton Museum of Art July 4th Festival WP Beach
Caller and Musicians
Anita Mason - Contra Dance caller - Instruction for dancers age 5 to 95 ; walking becomes dancing with a room full of friends! Plays bodhran (Irish hand drum) and assorted percussion. From Baltimore Md.
Patrick Mason - Cornbread band leader 6 and 12-guitar & foot bass - Contra,gypsy jazz,pop plus originals. From upstate New York.
Jennifer and Anjie- Old Time, bluegrass and classical fiddle/violins -
For more Information and Booking
Patrick Mason 954-431-0690 • Anita Mason 954-260-0938
mailto: customsportsservices@gmail.com
http://www.customsports.biz/browardcontradance.html
Facebook page see Cornbread Dance Band