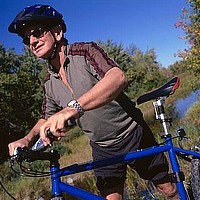 5.5
10 K TT average 22-23 MPH
The 5.5 level is the top of the intermediate category and begins the lower end of the more competitive expert riders. A typical rider profile has cycling as the predominant hobby and lists a diverse background of competitive racing and events. The 5.5 cyclist is comfortable in group riding, aware of changes in tempo, can take corners at speed and maintain a line, and can handle diverse riding conditions. The 5.5 level has very well developed bike handling skills and is aware of other riders and traffic situations around them. Similar characteristics as the 5.0 level with slightly higher performance abilities; paceline speeds at 22 MPH and above, pulls at 23-25 MPH.
6.0
Expert Cyclists Typical Profile 20 K TT average 23-24 MPH
This rider is frequently an experienced competitive cyclist. Intensive training three or four days a week is necessary to sustain the fitness needed to compete in weekend races. Racing may be subsidized through a team affiliation and commercial sponsors. This rider has a record of competition spanning several years and has experience in local and state competitions. The 6.0 cyclist may travel to race in sanctioned events offering prizes and prize monies. Pre-season road mileage base of 2-300 miles per week.
6.5
20 K TT average 24-25 MPH
Similar characteristics to the 6.0 rider profile with higher performance results. Often in a top ten or twenty place finish of state and local competitions.
7.0 Cyclists Typical Profile
20 K TT average 26-27 MPH
The 7.0 cyclist has an extensive background in mid to high level competitive racing. This rider often has a coach, sponsors, some product endorsements, and belongs to a racing team. Cycling is a major investment of time and energy. Periodization and highly structured workouts are essential for peaking at key events. This rider trains intensively several hours daily and often cross trains in the off season. This rider has a defined strength and has learned to use tactics and strategies in a variety of competitive situations.
Same general profile as the 7.0 rider, with higher finishes at state and regional competitions. Often has some international experience, travelling to other countries to compete. Performance indicators are results and top fifty place rating/rankings from previous year's events.
8.0 Competitive Cyclists Typical Profile
This rider frequently travels to compete and earns a significant portion of income from sponsors, commercial endorsements and prize monies. This level of rider has had success in regional and national level races and currently competes in high level....... (contact us for free copy)